Price and Availability

OnePlus Pad comes in two variants — 8GB+128GB and 12GB+256GB priced at Rs 37,999 and Rs 39,999 respectively. The OnePlus Pad comes in a Halo Green colour option. The Android tablet can be purchased online from Amazon.in, Flipkart.com, OnePlus.in and the OnePlus Store app. Customers can also purchase the tablet offline from the Oneplus Experience Stores and select Reliance and Croma Stores.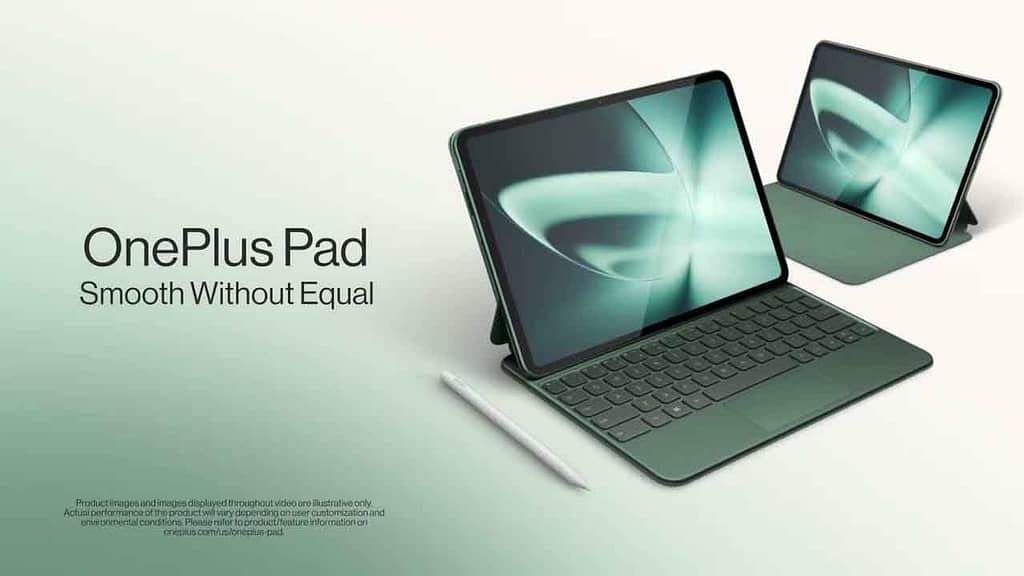 OnePlus Pad Launch Offers
Buyers can get an instant discount of Rs 2000 on the OnePlus Pad, on purchase through ICICI Bank Credit Cards, Debit Cards and EMI transactions on OnePlus.in, OnePlus Store App, Amazon.in, Flipkart.com, OnePlus Experience Stores and select partner stores.
Up to 12 months No Cost EMI starting from Rs 3166/month on the OnePlus Pad, on purchase using major credit cards on OnePlus.in, OnePlus Store App, Amazon.in, Flipkart.com, OnePlus Experience Stores and select Reliance and Croma stores.
Buyers would also get a free Folio case worth Rs 1,499 on pre-orders on OnePlus.in, Amazon.in, Flipkart.com, Selected OnePlus Experience stores, Selected Reliance and Croma stores, preorders will start at 12:00 PM IST on 28th April.
Under the OnePlus Xchange Program, buyers save an additional Rs 5000 on the exchange of OnePlus smartphones or Rs 3,000 on the exchange of select smartphones and tablets.
RCC-linked device members can avail of an additional Rs 2000 discount on the purchase of the OnePlus Pad via the RCC benefit section on their OnePlus smartphone. This offer is valid from 25 April, 2023 for a limited period of time.
OnePlus has done a commendable job with its maiden tab that offers widescreen, good processing power, long-lasting battery and fast charging capability
OnePlus has entered the burgeoning tab segment with its maiden tablet: OnePlus Pad. It is equipped with all the important features consumers look for in a tab. Starting at ₹37,999, it goes head-to-head against Apple's iPad and Samsung's Galaxy Tab S7. The new tab sports a 7:5 aspect ratio screen and is powered by Dimensity 9000 chipset.
Design

The device's display side is adorned with edge-to-edge glass, slightly curved at the edges, and has a uniform bezel, measuring under a centimetre. The large bezel provides place to rest the thumb while holding the tab. OnePlus sells the device in only one colour: Halo Green. The pristine shade adds to its aesthetic appeal.
The power button and ports for two of four loudspeakers lie on the left side of the device. And the right side hosts the remaining two speakers and a USB port. At the bottom, three contact plates provide access to the magnetic keyboard.
OnePlus has made space for an optional stylus at the top side. A pill-shaped pattern on the right side indicates where the stylus charges inductively, while the left side features the volume buttons and microphone. An 8MP front camera is located on the bezel below this edge
The rear side has a camera module along with an unbroken line for radio antennas. The back cover features a seamless unibody design, but the line is occasionally visible depending on how the light hits it. The metal back is prone to smudging, which requires some attention. There is also no certified ingress protection against dust and water.
One notable omission is the absence of a fingerprint scanner; the tab relies solely on passcodes for device security.
Technical Specifications

Display: 11.61 inches, 144Hz refresh rate
Processor: MediaTek Dimensity 9000
Cameras: 13MP rear, 8MP front
Battery: 9,510, 67W SUPERVOOC Charger
RAM/ROM: 8GB/128GB, 12GB/256GB
Display
The OnePlus Pad presents an impressive screen size of 11.61 inches, featuring a wide aspect ratio. Boasting an IPS LCD panel with a resolution of 2800×2000 pixels, this device offers a unique 7:5 aspect ratio. A remarkably high refresh rate of 144Hz sets it apart in its class.
Although OLED panels are typically only found in a few high-end tablets, the LCD display on the OnePlus Pad exhibits exceptional quality. Outstanding contrast and vibrant colours truly enhance the visual experience. Moreover, the OnePlus Pad supports a range of HDR formats, including HDR10, HDR10+, HLG, and Dolby Vision. Whether you're watching movies or engaging in gaming sessions, the screen provides a delightful experience.
Additionally, the display proves to be highly useful for tasks such as drafting edits or creating new designs. The stylus support on the OnePlus Pad makes doodling a breeze, adding to its convenience and functionality.
The display supports 500 nits of brightness. The screen at full brightness level is easily visible under bright sunlight. However, we would have liked a little more brightness, to make working in an outside environment even easier.
Camera

The OnePlus Pad is equipped with a single 13MP camera at the back featuring an f/2.2 aperture, autofocus, and LED flash. The front camera is an ultrawide 8MP with a fixed focus and an f/2.3 aperture. The camera software follows the design of other OnePlus devices, although it is considerably more simplistic. Camera modes can be accessed from the bottom of the screen, while toggles for flash, timer, AI enhancement, aspect ratio, and HDR are available on the left-hand side. Additionally, a simple toggle for 2x digital zoom is included.
There are panorama, slow-motion, and time-lapse modes to choose from. The image quality produced by the rear camera is decent for a tablet, with good colour reproduction and dynamic range. The level of detail is also satisfactory for casual photos or taking pictures of documents. Similarly, the front camera delivers acceptable-looking images and videos suitable for video calls.
Speakers

The OnePlus Pad is equipped with a quartet of speakers positioned in each corner. Depending on tab orientation, the system intelligently allocates audio channels to the respective speakers; in essence, regardless of how you hold the device, the speakers located on the left side will consistently play the left channel. The speaker audio quality is commendable, especially when the Dolby Atmos sound support kicks in. We suggest keeping the volume at an optimal level because, at full volume, the sound produced seems to stray away from the original pitch.
OS

The OnePlus Pad operates on OxygenOS 13.1, which is based on Android 13. It is a lightly modified version of OxygenOS specifically designed for tablets. OnePlus has incorporated several convenient features to enhance multitasking. For instance, the split screen function can be activated effortlessly with a two-finger swipe downward. Although this feature is limited to apps that support split screens, it worked well with most of the apps we tested.
Another handy feature is the flexible windows, allowing certain apps to open in small floating windows on the side, which can be minimised. However, it is worth noting that only one such app can be run at a time, and not all apps are compatible with this functionality.
One area where the OnePlus Pad falls short is its lack of cellular connectivity, which may be a deal breaker for some users. To compensate for this limitation, OnePlus has introduced Cellular Data Sharing, which enables you to share cellular data from your OnePlus phone simply by keeping the phone nearby and logging into the same OnePlus account.
Furthermore, Multi-Screen Connect allows screen mirroring, content synchronisation, and app relay via this connection. This is OnePlus's equivalent of Apple's Handoff feature. It is important to note that both the tablet and the OnePlus phone need to be running OxygenOS 13.1 for these functionalities to work.
Accessories

All the tab accessories are sold separately, which would add to the total cost of the device. Among these is the OnePlus Magnetic Keyboard: an all-in-one folio case, keyboard, and trackpad that attaches magnetically to the tablet, using pogo pins to transfer data.
The folio has a soft, leather-like texture on the outside, providing a good grip, while the inner side touching the tablet's metal back is felt-lined, helping to wipe any smudges on the back.
The keyboard has a typical chiclet-style design with reasonably sized keys, and the Fn key allows you access shortcuts for commonly used functions. Though getting used to them may take time, the keys have good tactile feedback and are pleasant to type on, allowing fast and accurate typing. The trackpad, below the keyboard, is hinged centrally and supports multi-touch gestures. However, using the case means keeping the tab at a fixed angle which may disturb the viewing angle on occasion. There are a few other shortcomings as well; the keyboard is not backlit and the trackpad is rather small if you wish to scroll over the whole screen.
The wireless stylus OnePlus Stylo connects over Bluetooth and charges magnetically, attaching to the top of the tablet. It is very convenient to use, whether scrolling through pages or engaging in creativity by drawing.
Performance

The OnePlus Pad is powered by MediaTek Dimensity 9000 chipset, complemented by 12GB LPDDR5 memory and a spacious 256GB UFS 3.1 storage. For graphics support, there is Mali-G710 MC10 GPU. We have used the Dimensity 9000 chipset earlier, and it delivers performance equivalent to Qualcomm Snapdragon 870.
In terms of performance, multi-tasking, browsing, and other activities run fluidly, making the pad one of the fastest in its segment. However, we would suggest keeping gaming to an average level as heavy games stutter on occasion, while average games run very fluidly.
The OnePlus Pad also exhibits excellent heat dissipation and thermal performance, as expected from a larger tablet. The chipset demonstrates remarkable resilience during rigorous stress testing, retaining its performance without significant degradation over time.
Battery

The OnePlus Pad boasts an impressive 9,510mAh battery capacity, notably larger than the average tablet battery. Even after hours of gaming and movie-watching, the battery can comfortably last for a full day.
Additionally, the OnePlus Pad is equipped with the latest OnePlus SUPERVOOC standard, supporting 67W fast charging capabilities. To facilitate this, the device comes packaged with a 100W charger with USB-A output (Note that this means it can only deliver high-speed charging to compatible OnePlus and Oppo devices using proprietary technology and cables.) During our review period, the charger was able to juice up the pad within 80 minutes, supporting what the company has claimed.
Verdict
OnePlus has done a commendable job with
processing power to long-lasting battery power and fast charging capability. However, we would have liked an in-built cellular slot and fingerprint reader to make usage easier.
With this tab, OnePlus is clearly reinventing the tablet market.